Banana Market - Below Treasure Isle Hotel, Tortola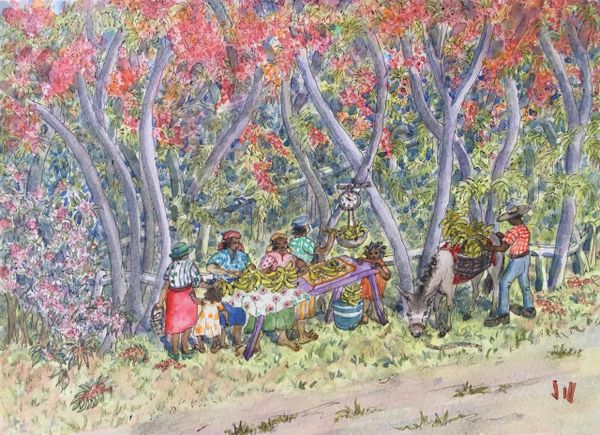 "Banana Market" Original Watercolour by Jill Tattersall 
Image size 14" x 10"
When Bananas were in season, markets sprang up all over Tortola. As most people had their own banana trees it was a buyer's opportunity for which West Indian fisherman have a colourful phrase: "Dey hanging Jack in de market place".
I used to see such a market set up on a rickety table under the flamboyant trees below the Treasure Isle Hotel, and while trade was not brisk, it was certainly a natural subject for a painting. Before the dredging of Wickham's Cay, the sea was lapping nearby and the road was used more by donkeys than by cars. I have shown this little market in full swing, with many sellers and a few buyers, complete with an optimistic farmer bringing yet another hand from his farm in Carrot Bay.