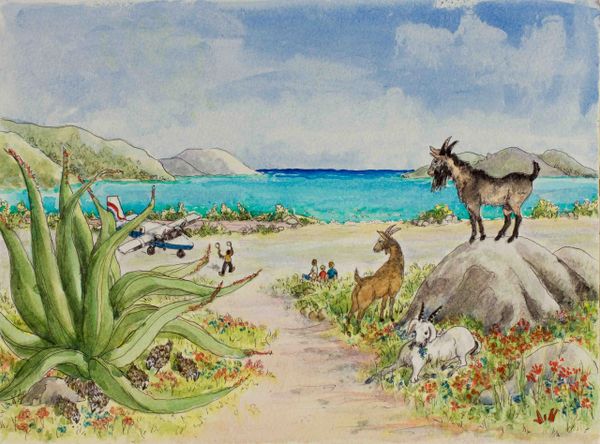 Beef Island International Airport
Limited Edition Glclee Print  by Jill Tattersall 12" x 8"
I did the sketch for this painting from memory of the sad day in 1966 when we joined a group of goats to watch our oldest son fly away to Antigua on the first part of his journey to England, his grandparents, and boarding school, seen off by his younger brothers. Eventually we heard from James that he had much enjoyed that day, beginning with the exciting voyage between Tortola and Beef Island on a raft, which tipped sideways in the strong current. 
I have depicted a five-seater Otter here, but now James tells me the aircraft that day was a tiny Beechcraft Bonanza single-engine plane, the only kind then operated by LIAT.
Beef Island at that time was inhabited mainly by goats and flocks of shy quails, sometimes known as Bob-Whites from the white heads of the male birds. I saw none that day but couldn't resist painting a family of them to commemorate the days when they were so numerous. The designation as an International Airport came, in fact, the following year, in 1967.