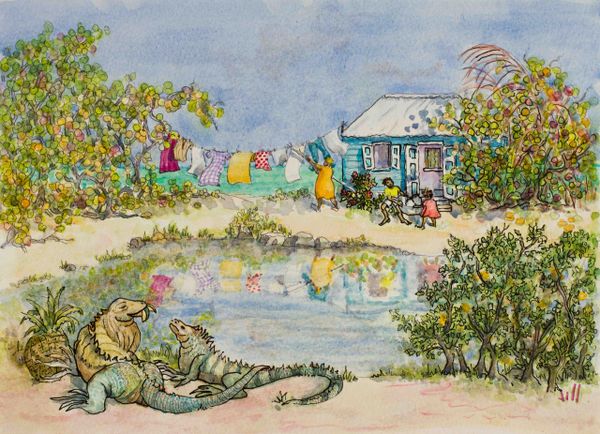 Breakfast for Iguanas
Limited Edition Giclee Print By Jill Tattersall 12" x 8" 
I always loved going to Anegada and in the early 80s I was delighted to be invited to speak to the schoolchildren there about the prehistory of that fascinating island. When the sea level was approximately 300 feet lower during the last ice age, I thought that the larger higher Anegada of that time probably had rivers, and if so, then there were no doubt sea cows grazing in the estuaries. Some of the children came with me to Mr Creque's interesting small museum - and there we did find fossilized sea cow tusks. Later when I set off on my own to look for the native iguanas. I met Mr Faulkner carrying a tin tray of vegetables for them. He spread the food on the ground and banged the tray to let them know breakfast was ready. Sadly, no iguanas were visible that day but I did have the pleasure of meeting Mrs Faulkner, the world famous singer, as she was hanging out her washing, helped by a smartly dressed son from New York. When I came across a photograph of the blue house, I decided to paint the iguanas having breakfast there.