SOLD Building the Botanic Garden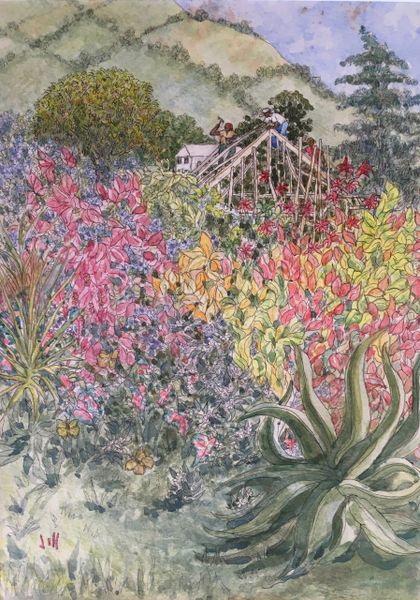 Original Watercolour by Jill tattersall - "Building the Botanical Gardens".
Image size 10" x 14"
It was exciting to be on the first Botanic Garden committee under the direction of Margaret Barwick, and I used to love to go there and photograph the early construction and planting. In one area, the Palm Garden, we found enough Indian pottery to conclude there had been a pre-Columbian village on that spot - the same place where years later, my oldest son would be married. 
For this painting I have used parts of two photographs for my inspiration and was amused to be reminded of the time when many more plants had arrived than we had beds to put them in, so for a while they were amassed in glorious confusion reminiscent of a Flemish tapestry, to the delight of the Orange-barred Sulfur butterflies.