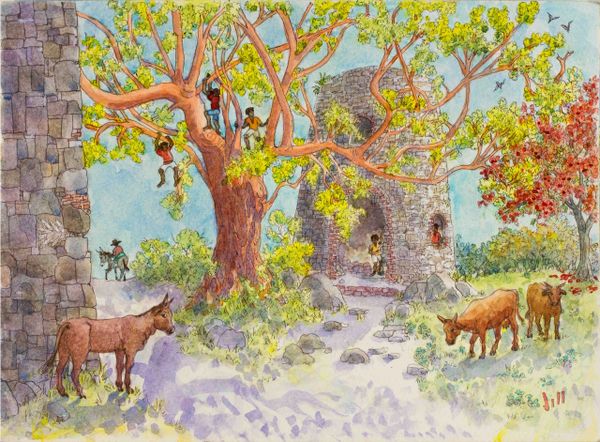 Cows at the Old Windmill
Limited Edition Giclee Print By Jill Tattersall 12" x 8" 
The Mount Healthy Mill has long stood as the only landmark of its kind in the BVI. In the 1980s an attempt was made to turn it into  a private home, which luckily failed, and since then it has been cared for by the National Parks. I remember when the area provided grazing for the cows whose milk we enjoyed, left for us by the farmer in an empty rum bottle with a stopper of dried grass under a bush to be collected early every morning - delicious milk, with a hint of rum.
The tree is a Loblolly, or Tourist Tree, so called because the trunk turns red and peels. It is said that the quality of the upland grass is accounted for by the fact that it sprang originally from a spilled sack of seed imported by a plantation owner to feed his collection of exotic birds.