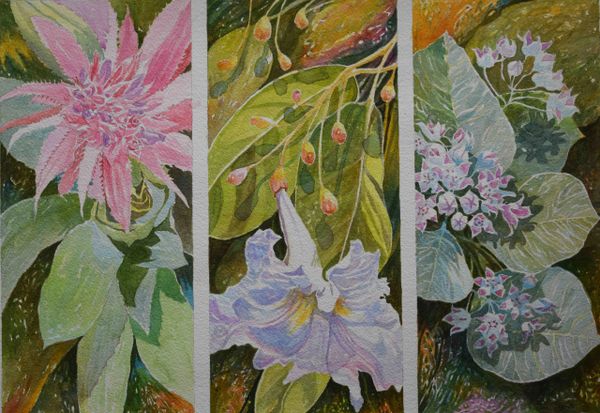 FLORAL TRIPTYCH
ORIGINAL WATERCOLORS BY CHRISTINE TAYLOR
6" X 13" each

$295 each
PINK BROMELIAD
I love the complex flowers that this bromeliad bears. The pink blooms have firm, waxy petals. Both petals and leaves are edged with tiny prickles. The flower takes weeks to open and lasts for months.
THE WHITE CEDAR (National tree of Tortola)
I love the shape of the white cedar tree and its clusters of white blossoms with their pale pink accents. On windy days, the fallen flowers create a soft, white carpet below. I used many colour washes to build up the patterns of light and dark in the buds, leaves and single flower shown in this watercolour painting.
MILKWEED (Cow Heel Bush)
This wild plant can be seen along the roadways throughout the territory. It has clusters of small, waxy mauve and white flowers. The large, orbiculate leaves are salt resistant. The plant releases a milky sap when damaged. I was drawn to the intense shadows which fell on the leaves below the sun drenched blossoms.