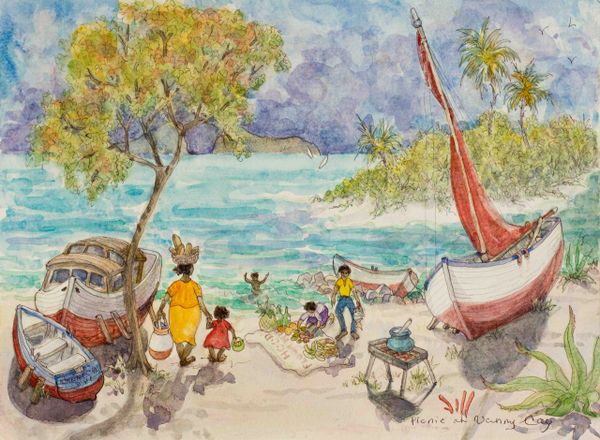 Picnic at Nanny Cay 
Limited Edition Giclee Print By Jill Tattersall 12" x 8" 
When there was time for relaxation in these islands there were many options: dancing around maypoles, cricket matches, boat races, walking the greasy pole for a tempting hunk of pork, horse racing along the track from Slaney to Fort Burt or later at the former Recreation Ground. One of the most popular amusements was picnicking, either by daylight or at night if there were a full moon. 
This family is preparing to enjoy themselves on Nanny Cay, where there used to be a tiny beach before it was swallowed by the rising sea level and tilting land. Beyond lies Pegleg Cay, supposedly named after the successful French Corsair, the one-legged Francois Le Clerc, who had sailed with Jacques de Sores for the immensely lucrative sacking of Havana, and who found the cay the perfect place to careen his ship.