Playing Fungi Behind the Old Cockle Shop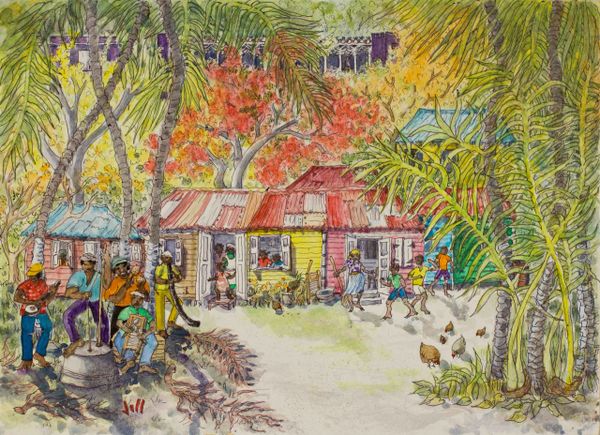 Playing Fungi Behind the Old Cockle Shop
Limited Edition Giclee Print By Jill Tattersall 12" x 8" 
The Fungi or Scratch Band consisted of home-made instruments like washboards played with spoons, pipes made from papaya stems, banjos constructed out of a halved gourd covered with catskin and strung with twine. Washtubs to beat the rhythm were drilled to hold a broom handle and string. Combs, sardine cans, conch shells, broken pipes and car exhausts were also adapted to produce the hauntingly sweet music of the BVI, and there was always a singer to intrigue and entertain with a song containing hidden messages, backed up by the chorus of his fellow musicians. 
Here they are playing in the palm-shaded area between Main Street and the sea behind the popular Cockle Shop, and attracting a small crowd as usual. Above I have shown part of the Bougainvillea's beautiful Venetian Gothic wing, once admired by the Queen herself but now no longer visible.