Local Tortola Sloop Sailing By Virgin Gorda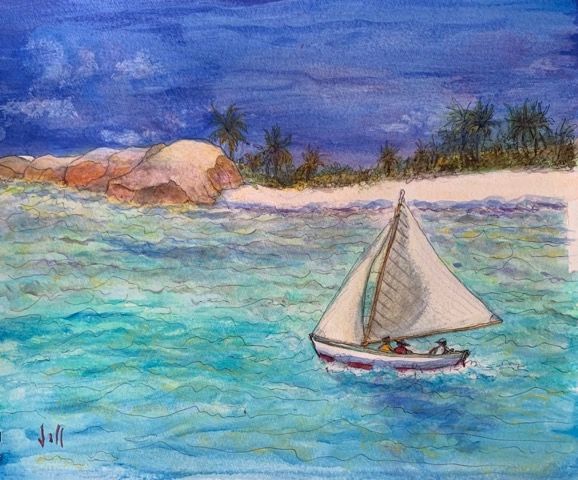 #67 Local sloop sailing by Virgin Gorda.
The boat shown in this painting is a traditional Tortola sloop, originally designed by an English sailor, locally built for fast downwind sailing in order to get cargoes such as cattle to St Thomas in record time. Several such sloops carried charcoal when there was profit in it, as one could tell by their blackened sails.   After hurricane Irma destroyed over 300 boats in the Inner Harbour opposite my house, the closest wreck was visible by the top feet of its mast sticking out of the water, and I discovered it was the local sloop Youth Instructor, which was later salvaged and restored at Nanny Cay. These sloops were beautifully built out of white cedar, BVI's National Tree, and the planks smoothed with rough Petrea leaves, while the seams were closed with pitch made by boiling Virgin Gorda's famed Pitch Apples.