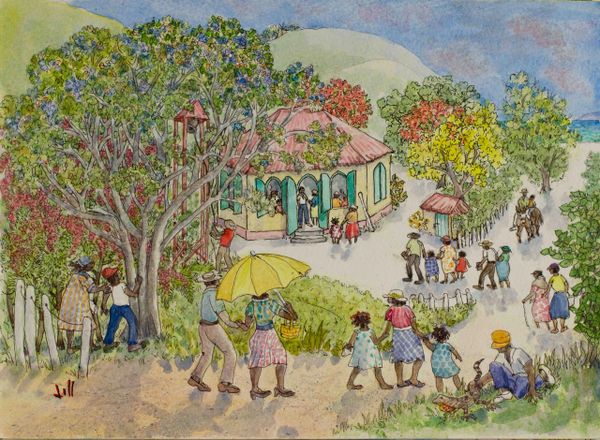 Zion Hill Old Church
 Limited Edition Giclee Print By Jill Tattersall 12" x 8"
After the original Methodist church was destroyed in the 1924 hurricane, it was rebuilt lower down the hill with its iron bell tower. In this painting the congregation which I visualized shows a little boy on the left who wants to be a bell ringer when he grows up, and his big sister who is only anxious to get him into church before the bell stops ringing. The boy kneeling on the right hopes to become a doctor and is experimenting with an anoli lizard, holding its tail to see if it will fall off. Across the road is a newly engaged couple, and farther down the hill an elderly daughter supports her ancient mother. Two serious-looking men are hurrying their families along, while another man arriving on a donkey with his son behind him, is in danger of being late.
The blue-flowered tree is a Lignum Vitae, valued for its dense timber and for its healing properties, used by the Indians to heal wounds caused by arrow poison, and often planted to mark the boundaries of the old estates. Early settlers called the tree Buckwood or Pockwood. Apparently, the area known as Pockwood Pond on the south shore of Tortola was named because of the abundance of this tree.